On July 30, 2022, Perry Stone released a video called "The Big Plot is Now Exposed" on YouTube defending his position on church, church attendance, and tithing. Perry is known for Manna-fest which first aired on TBN in 2000, and his YouTube channel Perry Stone, which boasts 736k followers, and 122 million total views.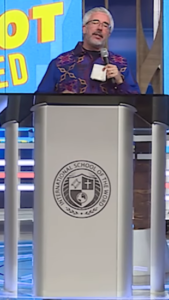 Following in his father's footsteps, he has only known a life IN church, not outside of it, which disqualifies him as an objective, unbiased observer. It's understandable that he and other ministers will defend church to their congregants, but there exists a world outside of church and how they do life is not altogether wrong. How non-church goers view church is important to be aware of, and not just the ex-church goers who may have had bad experiences.
This treatise could have been applied to any ministry that defends tithing and should not be construed as a personal attack on Perry. He's one of the few forthright ministers that I know online, and I consult his channel regularly because of his experience, insights, and candor.
It's the modern Christian framework that's at fault, but I could not have learned that entirely while in it. I had to be taught by those who had "been there done that" and by stepping out of it, into the wilderness for 8 years, with additional wildernesses even longer than that.
Please understand, I totally loved church life and was deeply involved before being called out of it; God, and teachers He sent, had to unmask my mind, so I share this out of love. The correct view of modern church won't be obvious unless a person has:
Love for ALL people.
Considers the view of others.
Has empathy.
Desires unity.
Cares for others more than self—no, "I'm (or we) are good, therefore all is well." Look around.
Give don't take attitude. 
Left society better than it was.
One thing that I learned from Mormonism was that it's possible to do church without anyone being paid. That's right, a typical Mormon church congregation has more staff than a so-called mega-Church, and no one from the bishop, organist, choir director, youth leader, women's leader, scout leader, nursery leader, Sunday school teachers, etc. receives any pay.
(@1:05:04) Listen, do you think if I had to go out there and work 8 hours a day could I have ever done a Study Bible with a million word commentary? It took me 7 years not having that type of work. But working every day, seven years, could I do videos, dvds, cds, and prepare this message? No, after eight hours I'd be tired. This is why the offerings or tithing to the local church are important because it enables there to be a full-time staff of people.
Those who feel called to the ministry will be given the grace to do more than others, just as nurses, doctors, firefighters, and police do. But anyone not called to it won't be able to endure it, which is a sure way of sifting through those who are only in the ministry for the money.
Let's look at Paul's life:
33 I have COVETED no man's silver, or gold, or apparel.
34 Yea, ye yourselves know, that THESE HANDS have ministered unto MY NECESSITIES, and to them that were with me.
35 I HAVE SHEWED YOU ALL THINGS, how that so labouring ye ought to support the weak, and to remember the words of the Lord Jesus, how he said, It is more blessed to give than to receive. (Acts 20)
Let's look at some warnings:
Bishop…not given to filthy lucre (Titus 1:7)
Deacons not greedy of filthy lucre (1 Timothy 3:8)
Elders…feed the flock…taking the oversight…not for filthy lucre (1 Peter 5:1)
The recognition that this is a problem in Christianity could have endeared readers to Perry, but no such acknowledgement was given. Perry proceeded to cite verses that refer to cheerful giving (and the like) as scriptural support for tithing, but that was a stretch; they were not in the context of paying a tithe under the New Covenant.
Perry was unable to find a single direct command by the Lord Jesus to pay a tithe; and he was less likely to find two direct commands by anyone in the New Testament saying it and every doctrine should be supported by two witnesses:
1 In the mouth of TWO or THREE WITNESSES shall EVERY WORD BE ESTABLISHED. (2 Corinthians 13)
Perry, the consummate scriptorian, failed to provide background and context on tithing. The clear command says it was for the Levites, and that never changed, which begs the question: "Are Christian ministers Levites?"
25 And the Lord spake unto Moses, saying,
26 Thus speak unto the LEVITES, and say unto them, When ye take of the children of Israel THE TITHES WHICH I HAVE GIVEN YOU from them for your inheritance (Numbers 18)
After some unique scripture juggling to buoy his support for a Christian tithe, Perry finally landed on his Hail Mary pass and what he considers his end of discussion verse, which reads:
8 And here men that die receive tithes; but there he receiveth them, of whom it is witnessed that he liveth. (Hebrews 7)
And Perry's interpretation:
(@1:07:55) Now I'm gonna, I'm gonna end this section or pretty much with this verse everyone who is on this anti-tithe rant and it's a rant. I HAVE ONE VERSE THAT SETTLES THE WHOLE QUESTION. If you believe the bible, this verse settles the question. Hebrews 7 and 8, alright, so it's tithing, and giving has been going on for a while. If tithing stopped at the cross, if tithing stopped at the resurrection, if tithing no longer exists, THIS VERSE SHOULD NOT BE IN THE BIBLE; it shouldn't even be in the Bible but watch what it says.

Ready? Here we go:

"Here men die that receive tithe but there he receiveth them of which we witness that he lives."

Okay, we'll say it again,

"Here on earth men died"

Because the temple still existed when he wrote this. 

"Here men die that receive tithe but there he [Jesus or Melchizedek?] receives it, he [Jesus or Melchizedek?] receives them, he [Jesus or Melchizedek?] receives tithes"

So the point is, when you give on earth, CHRIST IS RECEIVING IT IN HEAVEN.
Perry is quoting from the New King James version:
8 Here mortal men receive tithes, but there he [Jesus or Melchizedek?] receives them, of whom it is witnessed that he [Jesus or Melchizedek?] lives. (Hebrews 7 NKJV)
Proof-texting is a real problem and I would have thought Perry would have avoided using it:
Proof texting is the method by which a person appeals to a biblical text to prove or justify a theological position without regard for the context of the passage they are citing.1 
If the above verse is not referring to Jesus then Perry's Hail Mary falls flat. Let's look at other translations, like Perry should have done:
Berean Study Bible
In the case of the Levites, mortal men collect the tenth; but in the case of MELCHIZEDEK, it is affirmed that HE LIVES ON.

Contemporary English Version
Priests are given a tenth of what people earn. But all priests die, except MELCHIZEDEK, and the Scriptures teach that HE IS ALIVE.

International Standard Version
Mortal men collect tithes, but we are informed by Scripture that MELCHIZEDEK KEEPS ON LIVING.

GOD'S WORD® Translation
Priests receive a tenth of everything, but they die. MELCHIZEDEK received a tenth of everything, but WE ARE TOLD THAT HE LIVES.

New Living Translation
The priests who collect tithes are men who die, so Melchizedek is greater than they are, because we are told that he lives on.
And commentaries affirm those translations:
Pulpit Commentary
Verse 8. – And here (in the case of the Levitical priesthood) men that die (literally, dying men) receive tithes; but there (in the case of Melchizedek) one of whom it is witnessed that he liveth. The difference here noted is between a succession of mortal priests and one perpetually living, who never loses his personal claim, which is inherent, in himself. But how so of MELCHIZEDEK? FOR IT IS TO HIM, and not to Christ the Antitype, that THE WORDS EVIDENTLY APPLY.
Can a modern church building really be equated with the ancient temple?
Who could access the Holy of Holies?
Who could access the Sanctuary?
Who could access the Porch?
Who could access the Inner Court?
Who could access the Great Court?
The people did not have access to the temple; they were in the outside court. Therefore, the answer is NO, church buildings cannot be equated with the ancient House of God:
According to the Bible, two courts surrounded the Temple. The Inner Court (1 Kings 6:36), or Court of the Priests (2 Chr. 4:9), was separated from the space beyond by a wall of three courses of hewn stone, surmounted by cedar beams (1 Kings 6:36). It contained the Altar of burnt-offering (2 Chr. 15:8), the Brazen Sea laver (4:2–5, 10) and ten other lavers (1 Kings 7:38, 39). A brazen altar stood before the Temple (2 Kings 16:14), its dimensions 20 cubits square and 10 cubits high (2 Chr. 4:1). THE GREAT COURT SURROUNDED THE WHOLE TEMPLE (2 Chr. 4:9). IT WAS HERE THAT PEOPLE ASSEMBLED TO WORSHIP. (Jeremiah 19:14; 26:2).2