"I want you to understand that I do not know what will happen in November, but I do know that God is going to take care of His own. He's going to warn them in advance and they're actually going to find a way to thrive (1). The most fearful thing of the hour we're living in is how much God loves America (2). God loves America so fiercely that His enemies had better understand (3) that before this nation goes under, God is going to roll-up His sleeves (4) and give the Devil the fight of his life (5).

Therefore, rest in the Lord (6), prepare in the Lord, press into the Lord, and the Bible promises that He will be a sanctuary."

(Ynus AK, "Mario Murillo (Jun 17, 2022) – [Biblical Prophecy] When will the disaster come?," YouTube, 13:21)
Introduction
The message in my recent book, EXODUS (2022) establishes the fact that God's favor for America has exited and any prophet claiming God is going to save America is prophesying falsely. Readers are encouraged to get up to speed on God's timeline by reading that book.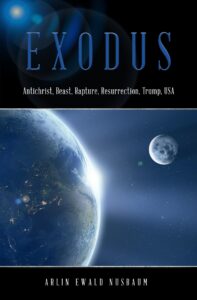 1) They're Going to Find a Way to Thrive
We have been in the season of suffering Believers since Biden et al came into power and NO TRUE CHRISTIAN IS GOING TO "THRIVE."
2) How Much God Loves America
Murillo's braggadocious statement "how much God loves America" appeals to the ego of listeners and is proof he is motivated by greed; the greed of praise, money, or something else, for he directly opposes God's position, which is "tough love" and JUDGMENT ON AMERICA.
3) His Enemies Had Better Understand
The enemies of America "understand" they are fully in control as demonstrated by the failure of Trump to secure the election despite his a) knowing their plans, and b) knowing their methods. 
4) God is Going to Roll-Up His Sleeves
God is NOT going to "ROLL-UP HIS SLEEVES" and play tough guy on our behalf—not for the righteous, not for the nation, and not for the world. The time for God to have done that has passed. We are not a righteous nation like Israel once was and God will not be intervening for us as He once did.
"Preparing for the worst" is the correct position, unfortunately.
5) Give the Devil the Fight of His Life
God's favor has exited earth, exited America, exited Trump, and exited Believers. There will be no "God giving the devil the fight of his life." The true followers of God have all already been in the battle while false teachers along with false prophets have been placating the minds of their followers.
3 For the time will come when they will not endure sound doctrine; but after their own lusts shall they heap to themselves teachers, HAVING ITCHING EARS; (2 Timothy 4)
6) Therefore, Rest in the Lord
The enemy has destroyed America, and yet he says "rest in the Lord",
30 Then came the word of the Lord unto Jeremiah, saying,
31 Send to all them of the captivity, saying, Thus saith the Lord concerning Shemaiah the Nehelamite; Because that Shemaiah hath prophesied unto you, and I SENT HIM NOT, and HE CAUSED YOU TO TRUST IN A LIE:
32 Therefore thus saith the Lord; Behold, I will punish Shemaiah the Nehelamite, and his seed: he shall not have a man to dwell among this people; neither shall he behold the good that I will do for my people, saith the Lord; because HE HATH TAUGHT REBELLION AGAINST THE LORD. (Jeremiah 29)

4 Then shall they cry unto the Lord, but he will not hear them: he will even hide his face from them at that time, as they have behaved themselves ill in their doings.
5 Thus saith the Lord CONCERNING THE PROPHETS THAT MAKE MY PEOPLE ERR, that bite with their teeth, and CRY, PEACE; and he that putteth not into their mouths, they even prepare war against him. (Micah 3)
Summation
Any prophet or teacher prophesying or teaching that God will intervene on behalf of America since Biden was inaugurated is speaking lies; they are false teachers or false prophets and enemies of God.
1 This know also, that in the last days perilous times shall come.
2 For men shall be lovers of their own selves…traitors, heady,
   highminded, lovers of pleasures more than lovers of God;
5 Having a form of godliness, but denying the power thereof:
   from such turn away. (2 Timothy 3)
Pray and ask God for a confirmation of what hour we are living in and who is speaking the truth. It's every person's right to know:
5 If any of you lack wisdom, let him ask of God (James 1)
Jesus IS the Second Comforter AND the Spirit of Truth. Ask for His comfort and for the truth to be known.
16 And I will pray the Father, and he shall give you another COMFORTER, that he may abide with you for ever;
17 Even the SPIRIT OF TRUTH; whom the world cannot receive, because it seeth him not, neither knoweth him: but ye know him; for he dwelleth with you, and shall be in you.
18 I will not leave you comfortless:
     I WILL COME TO YOU. (John 14)
Jesus stands at the door and knocks:
20 Behold, I stand at the door, and knock: if any man hear my voice, and open the door, I will come in to him, and will sup with him, and he with me. (Revelation 3)
Hard times will soon be upon us all. It happened to Our Lord, and many Christians became martyrs. Let us always remember, there is another world and Our Lord rules there:
32 Behold, the hour cometh, yea, is now come, that ye shall be scattered…
33 These things I have spoken unto you, that in me ye might have peace.
      In the world ye shall have tribulation:
      but be of good cheer; I HAVE OVERCOME THE WORLD. (John 16)
Let us not give in or stop fighting, and let's do everything we can do NOW to warn and soften the hard times for our families and others—that's the will and mind of Almighty God.