This is a correction of Michael Rood's false teaching that the souls of the dead are stuck in the grave until The Resurrection [Apparently, the soul of mother Eve (and all women) is still in the grave somewhere.].
Michael Rood also teaches it's not possible for the righteous dead to come back to Earth as messengers on assignments from God (they're stuck in graves) to comfort or give direction. 
Example 1
Whenever the Greek word aggelos appears in the Gospels, one must determine from the context if this is a human or a divine messenger.

Don't make the mistake of thinking of angels as having wings, signing songs, or playing harps. Not once in the Scriptures does this artistic fantasy appear.

Angels are invariably identified as men, sometimes fearfully imposing, but never as chubby little cherubs or winged supermodels.

Angels are angels. People are people.

Dead people do not become angels.

Dead people are awaiting the Resurrection.

Only Yeshua and the 24 elders who were raised as the firstfruits from among the dead are in heaven now.

These 24 elders, the firstfruits, are the only ones who are seen playing harps and singing in the throne room of heaven.

Thousands of your dead relatives are not floating around heaven

helping you to win your next ballgame or ace your next algebra test.

THEY ARE IN THE GRAVE and are WAITING whichever RESURRECTION they have attained.

(A Rood Awakening!, "The Sharp Sword of Truth | The Chronological Gospels," YouTube, Sep 15, 2017, @5:29, youtu.be/ynlbDlkJ5Xw)
Example 2
Angels are angels, and dead men do not become angels

they REMAIN IN THE GRAVE until one of the four resurrections.

(A Rood Awakening!, "On The Third Day: Resurrection and Ascension | The Chronological Gospels," YouTube, Oct 14, 2017, @6:04, youtu.be/8vHpWXlgwPc)
He ignores the following scriptures.
Abraham's Bosom
22 And it came to pass, that the BEGGAR died, and was CARRIED BY THE ANGELS INTO ABRAHAM'S BOSOM: the RICH MAN also died, and was buried;
23 And IN HELL he lift up his eyes, being in torments, and seeth Abraham afar off, and Lazarus in his bosom.
24 And he cried and said, Father Abraham, have mercy on me, and send Lazarus, that he may dip the tip of his finger in water, and cool my tongue; for I am tormented in this flame.
25 But Abraham said, Son, remember that thou in thy lifetime receivedst thy good things, and likewise Lazarus evil things: but now he is comforted, and thou art tormented.
26 And beside all this, between us and you there is a great gulf fixed: so that they which would pass from hence to you cannot; neither can they pass to us, that would come from thence.
27 Then he said, I pray thee therefore, father, that thou wouldest send him to my father's house:
28 For I have five brethren; that he may testify unto them, lest they also come into this place of torment.
29 Abraham saith unto him, They have Moses and the prophets; let them hear them.
30 And he said, Nay, father Abraham: but IF ONE WENT UNTO THEM FROM THE DEAD, they will repent.
31 And he said unto him, If they hear not Moses and the prophets, neither will they be persuaded, though one rose from the dead. (Luke 16)
Whether the dead are in Hell or Heaven, this speaks to the fact that neither one is stuck in the grave.
Paradise & Thief on the Cross
39 And one of the malefactors which were hanged railed on him, saying, If thou be Christ, save thyself and us.
40 But the other answering rebuked him, saying, Dost not thou fear God, seeing thou art in the same condemnation?
41 And we indeed justly; for we receive the due reward of our deeds: but this man hath done nothing amiss.
42 And he said unto Jesus, Lord, remember me when thou comest into thy kingdom.
43 And Jesus said unto him, Verily I say unto thee, TODAY SHALT THOU BE WITH ME IN PARADISE. (Luke 23)
Great Multitude
The faithful dead are not in the grave but go straight to God:
7 Then shall the dust return to the earth as it was: and the SPIRIT SHALL RETURN UNTO GOD who gave it. (Ecclesiastes 12)
This is before the resurrection.
9 After this I beheld, and, lo, A GREAT MULTITUDE, WHICH NO MAN COULD NUMBER, OF ALL NATIONS, AND KINDREDS, AND PEOPLE, AND TONGUES, STOOD BEFORE THE THRONE, AND BEFORE THE LAMB, CLOTHED WITH WHITE ROBES, and palms in their hands;
10 And cried with a loud voice, saying, Salvation to our God which sitteth upon the throne, and unto the Lamb.
11 And all the angels stood round about the throne, and about the elders and the four beasts, and fell before the throne on their faces, and worshipped God,
12 Saying, Amen: Blessing, and glory, and wisdom, and thanksgiving, and honour, and power, and might, be unto our God for ever and ever. Amen.
13 And one of the elders answered, saying unto me, What are these which are arrayed in white robes? and whence came they?
14 And I said unto him, Sir, thou knowest. And he said to me, These are they which came out of great tribulation, and have washed their robes, and made them white in the blood of the Lamb.
15 THEREFORE ARE THEY BEFORE THE THRONE OF GOD, AND SERVE HIM DAY AND NIGHT IN HIS TEMPLE: and he that sitteth on the throne shall dwell among them.
16 They shall hunger no more, neither thirst any more; neither shall the sun light on them, nor any heat.
17 For the Lamb which is in the midst of the throne shall feed them, and shall lead them unto living fountains of waters: and God shall wipe away all tears from their eyes. (Revelation 7)
144,000
This is before the resurrection.
1 And I looked, and, lo, a Lamb stood on the mount Sion, and with him an hundred forty and four thousand, having his Father's name written in their foreheads.
2 And I heard a voice from heaven, as the voice of many waters, and as the voice of a great thunder: and I heard the VOICE OF HARPERS harping with their harps:
3 And they SUNG as it were a NEW SONG before the throne, and before the four beasts, and the elders: and no man could learn that song but the hundred and forty and four thousand, WHICH WERE REDEEMED FROM THE EARTH. (Revelation 14)
Pulpit Commentary
He stands on Mount Zion (cf. Hebrews 12:22, "Mount Zion, the city of the living God, the heavenly Jerusalem"). The appropriateness of the position is seen(1) in its strength (cf. the position of the beast, rising from the sea, perhaps standing on the sand, Revelation 13:1; and cf. Psalm 87:1, 2, "His foundation is in the holy mountains. The Lord loveth the gates of Zion more than all the dwellings of Jacob").

(2) Because there is the temple of God, in the midst of which is the Lamb, and there is the new Jerusalem (Revelation 21:2).

(3) Zion is the new Jerusalem, the opposite extreme to Babylon (ver. 8). And with him an hundred forty and four thousand, having his Father's Name written in their foreheads. The reading, τὸ ὄνομα αὐτοῦ καὶ τὸ ὅνομα τοῦ Πατρὸς αὐτοῦ, his Name and his Father's Name, adopted in the Revised Version, is supported by א, A, B, C, with most cursives, versions, and Fathers. Note the similarity to the description in Revelation 7. Here, as there, the hundred and forty-four thousand are those "redeemed from the earth" (ver. 3). The number denotes a large and perfect number; a multitude of which the total is complete (see on Revelation 7:4). In Revelation 7, the sealing in the forehead is described. This sign marks out the redeemed in contradistinction to those who have received the mark of the beast (Revelation 13:16).
Messengers
8 And I John saw these things, and heard them. And when I had heard and seen, I fell down to worship before the feet of the angel which shewed me these things.
9 Then saith he unto me, See thou do it not: for I AM THY FELLOWSERVANT [FELLOW HUMAN], and of thy brethren the prophets [was a prophet on Earth], and of them which keep the sayings of this book [Human]: worship God. (Revelation 22)
Testimonies
Rood dismisses Christian testimonies.
Mary K. Baxter
Mary K. Baxter quotes scripture all throughout her testimonies.
Bill Wiese
Bill Wiese, author of 23 Minutes in Hell: One Man's Story About What He Saw, Heard, and Felt in That Place of Torment. In Bill's testimony, he tells how Jesus refuted the "soul sleep" teaching belief: 
Why did you send me to that horrible place? He [Jesus] said, because many people do not believe Hell is real. He said even some of my own people do not believe Hell exists. Which, that statement surprised me, because I thought all Christians believe in Hell, but many of them do not. They believe in Annihilationism or Universalism or Soul Sleep. None of that's true. Jesus said in Matthew 25:46 'these shall go in the everlasting life and these shall go into everlasting punishment.' (Living For Christ, "This Man Went To Hell For 23 Minutes," YouTube, @8:29, youtu.be/L7FkyF4ux70)
Richard Sigmund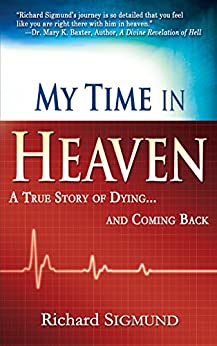 Is there life after death? After a tragic accident, doctors pronounced Richard Sigmund legally dead. Eight hours later, God miraculously brought him back to life on the way to the morgue. During those hours, God allowed him to experience the glorious beauty, heavenly sounds, sweet aromas, and boundless joys of heaven THAT AWAIT EVERY BELIEVER. God then returned him to earth with a mission to tell the world what he saw. You will thrill to Sigmund's eyewitness account of strolling down heaven's streets of gold, seeing angels playing with children, talking with Jesus, meeting with people from the Bible and departed family and friends, seeing the mansions, and much more!

Through Sigmund's testimony, God has restored sight to the blind and hearing to the deaf and has even raised several people from the dead. Also, you will catch a glimpse of the horrifying reality of "the other place" – a place where no one wants to go. (Book Description)
I have not heard a single testimony from Michael Rood which may be evidence he does not value the worth of testimonies, but that's all the prophets and apostles had to give, and God is the same yesterday, today, and forever (Heb.13:8).
1 In the year that king Uzziah died I saw also the Lord sitting upon a throne, high and lifted up, and his train filled the temple.
2 Above it stood the seraphims: each one had six wings; with twain he covered his face, and with twain he covered his feet, and with twain he did fly.
3 And one cried unto another, and said, Holy, holy, holy, is the Lord of hosts: the whole earth is full of his glory. (Isaiah 6)
8 And the four beasts had each of them six wings about him; and they were full of eyes within: and they rest not day and night, saying, Holy, holy, holy, Lord God Almighty, which was, and is, and is to come. (Revelation 4)
Percy Collett